Happy Tuesday!
Not familiar with Checkout 51? Check out Checkout 51 here! 🙂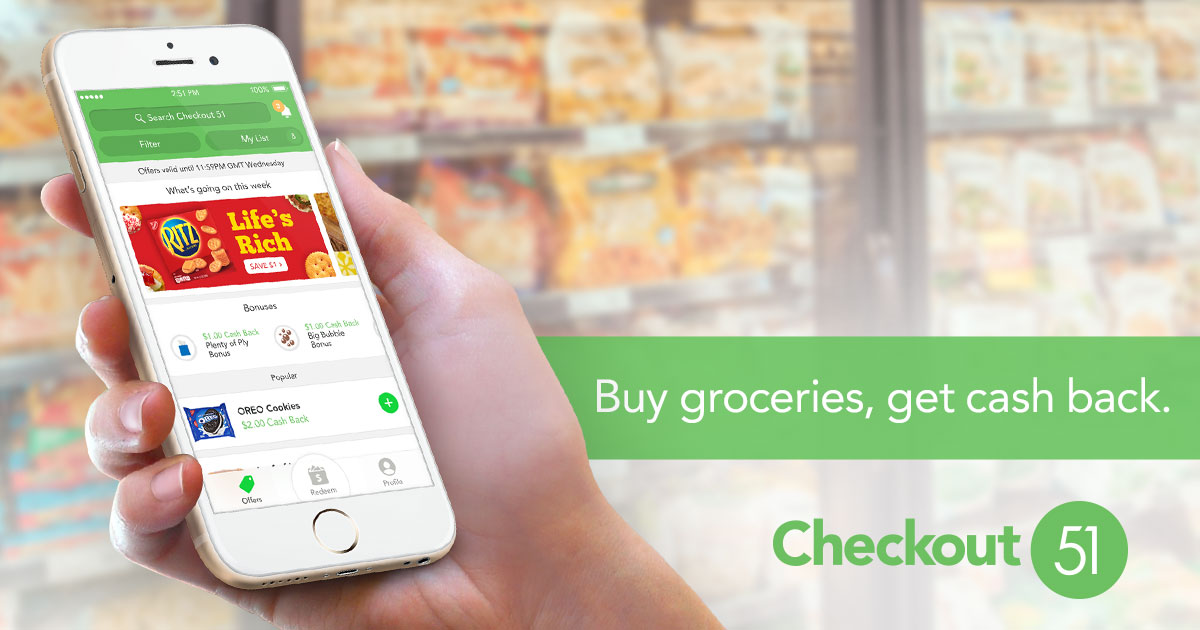 On to this week's cash back offers! —>
(To view the image version once the offers go live, click here)
Our new offers will go live at 12:00 AM November 16, 2017, and expire at 11:59 PM November 22, 2017. Members must buy the products in the United States and submit the receipts while the offers are live.
At Select Retailers: Theravent® Advanced Snore Therapy
6 ct.
Cash back $2.00
At Target: Zantac® select sizes
Valid on 24 count or 30 count, excludes Duo Fusion®.
Cash back $2.00
At CVS: U by KOTEX® Fitness products
Any variety.
Cash back $0.50
Cooked Perfect® Fire Grilled Chicken 
Any variety.
Cash back $1.50
At Office Depot: HP Bright White Inkjet paper
Valid on 500 ct only.
Cash back $5.00
Buy 2: CLR® Mold & Mildew Stain Remover
32 oz bottle. Items must appear on the same receipt.
Cash back $0.75
Buy 2: CLR® Bath & Kitchen Cleaner
26 oz bottle. Items must appear on the same receipt.
Cash back $0.75
Buy 2: CLR® Calcium, Lime & Rust Remover
Valid only on 28 oz or 128 oz bottle. Items must appear on the same receipt.
Cash back $0.75
At Select Retailers: VELVEETA™ frozen snacks 
Valid on stuffed grilled cheese and original or salsa con queso cheesy bites.
Cash back $1.00
At Publix: Lemi Shine Dish Detergent Booster
24 oz.
Cash back $2.50
At Dollar General: Select Bayer Aspirin
Any variety. Excludes Back and Body.
Cash back $1.00
At Dollar General: Bayer Back & Body
Any variety.
Cash back $1.00
At CVS: Poise® products
Any variety.
Cash back $0.75
At CVS: Depend® products
Any variety.
Cash back $0.75
At Select Retailers: Sally Hansen® Salon Chrome kits
Any variety.
Cash back $4.00
At Dollar General: ALEVE® Easy Open Arthritis Cap
Valid on 20 ct or higher
Cash back $1.00
Farmer John® Hot Dogs
Any variety.
Cash back $0.55
At Kroger: ACE™ Brand or FUTURO™ braces and supports
Any variety.
Cash back $3.00
At Dollar General: Dr. Scholl's Comfort Tri-Comfort Insoles for Men
Valid on 1 pair.
Cash back $3.00
At Dollar General: Dr. Scholl's Comfort Tri-Comfort Insoles for Women
Valid on 1 pair.
Cash back $3.00
At Dollar General: Dr. Scholl's Comfort and Energy Work Insoles for Women
Valid on 1 pair.
Cash back $3.00
At Dollar General: Dr. Scholl's Comfort and Energy Work Insoles for Men
Valid on 1 pair.
Cash back $3.00
At Dollar General: Dr. Scholl's Pain Relief Orthotics for Heavy Duty Support for Men
Valid on 1 pair.
Cash back $3.00
At Dollar General: Dr. Scholl's Pain Relief Orthotics for Lower Back Pain for Men
Valid on 1 pair.
Cash back $3.00
At Walgreens: Futuro™ Compression Legwear products
Any variety.
Cash back $3.00
At Walmart: Sundown Naturals Kids multivitamin gummies
Any variety.
Cash back $1.00
Select Sargento® Natural Cheese Slices
Valid on Sargento® Smokehouse Cheddar™ or Garlic & Herb Jack Natural Cheese Slices.
Cash back $0.75
At Dollar General: ALEVE® PM
Valid on 20 ct or higher
Cash back $1.00
At Dollar General: Select ALEVE®
Valid on 20 ct or higher.Excludes ALEVE® PM and ALEVE® Easy Open Arthritis Cap
Cash back $1.00
At Babies R Us Combo: HUGGIES® Value Box of Diapers + HUGGIES® Wipes
Any Value Box of diapers* and any 32 ct or larger wipes. Items must appear on the same receipt.
Cash back $10.00
Buy 2: Glade® PlugIn® Scented Oil Warmers
Any variety. Items must appear on the same receipt.
Cash back $1.00
Buy 2: Glade® Wax Melts Refills
Any variety. Items must appear on the same receipt.
Cash back $1.00
Glade® Atmosphere Collection™ products
Any variety.
Cash back $1.00
Maille Dijon Mustard
Any variety.
Cash back $1.25
Maille Cornichons
Any variety.
Cash back $1.50
ARM & HAMMER™ Carpet Deodorizer
30 oz or larger, any variety.
Cash back $0.50
At Walmart: adidas Dynamic Pulse Home & Gym gift set
Valid only on gift set.
Cash back $4.00
Os-Cal® Calcium Supplement with Vitamin D3 
Any variety.
Cash back $2.00
Citrucel® Fiber Therapy caplets and powders 
Any variety.
Cash back $2.00
Slow Fe® Slow Release Iron Supplement tablets 
Any variety.
Cash back $2.00
At Select Retailers: Buy 2: Select Sheila G's Brownie Brittle
Excludes Thindulgent, Organic and Gluten Free varieties. Items must appear on the same receipt.
Cash back $1.00
At Select Retailers: Sheila G's Thindulgent 
Any variety.
Cash back $1.00
At Select Retailers: Sheila G's BROWNIE BRITTLE Organic 
Any variety.
Cash back $1.00
At Select Retailers: Sheila G's BROWNIE BRITTLE Gluten Free
Any variety.
Cash back $1.00
Glade® Fragrances Bonus 
Redeem offers with this icon by Wednesday, and the following Friday get a bonus $0.25 for redeeming 2 offers, or $0.50 for 3 offers.
Cash back $0.50
At Walmart: Woolite At-Home Dry Cleaner
Any variety.
Cash back $3.00
Buy 5: Kellogg's® Cereals
Valid on 8.4 oz or larger, any flavor. Items must appear on the same receipt.
Cash back $3.00
White Cloud® bath tissue or paper towels
Any variety.
Cash back $2.00
Farm Rich Avocado Slices
Valid on 13.6 oz or larger.
Cash back $1.00
Farm Rich Fiesta Chicken Roll Ups
Valid on 13.6 oz or larger.
Cash back $1.00
Farm Rich Pimento Cheese Bites
Valid on 13.6 oz or larger.
Cash back $1.00
Select Farm Rich Appetizers
Valid on 13.6 oz or larger. Excludes Farm Rich Speciality products.
Cash back $1.00
Farm Rich Meatballs
Valid on 13.6 oz or larger.
Cash back $1.00
GoGo squeeZ® YogurtZ
Any variety.
Cash back $0.50
Buy 2: Duracell Coppertop or Quantum
Valid on Duracell Coppertop or Quantum.
Cash back $2.00
At Select Retailers: hello® naturally friendly toothpaste
Any variety.
Cash back $1.25
At Select Retailers: Wasa products
Any variety.
Cash back $1.00
Goldfish® baked with whole grain crackers
Any variety.
Cash back $0.50
At Walgreens: OREO King Size Chocolate Candy Bar
Valid only on King Size 2.88 oz.
Cash back $1.00
Zantac® select sizes
Valid on 50 count or larger, excludes Duo Fusion®.
Cash back $5.00
¡Sabor! by Texas Pete® Mexican-style hot sauce
5 oz.
Cash back $0.75
Stetson Fragrance or Gift Set
Any variety.
Cash back $2.00
Jovan Fragrance or Gift Set
Any variety.
Cash back $2.00
Nautica Fragrance or Gift Set
Any variety.
Cash back $2.00
Katy Perry Fragrance or Gift Set
Any variety.
Cash back $2.00
Vera Wang Fragrance or Gift Set
Any variety.
Cash back $2.00
Beyonce Fragrance or Gift Set
Any variety.
Cash back $2.00
Select Coty Fragrance or Gift Set
Valid on Playboy, David Beckham, Exclamation, Vanilla Fields, Sand & Sable, Aspen, Gravity, Guess, Preferred Stock and Enrique Iglesias.
Cash back $2.00
adidas Fragrance or Gift Set
Any variety.
Cash back $2.00
Buy 3: Light & Fit Greek Yogurt with Zero Artificial Sweeteners single serve cups
5.3 oz., any variety. Items must appear on the same receipt.
Cash back $1.00
Light & Fit with Zero Artificial Sweeteners Regular 4 Pack
Valid on 4-pack of 5.3 oz., any variety.
Cash back $0.85
Simple Products
Any variety. Excludes trial and travel size.
Cash back $1.50
Kidfresh® 
Any variety.
Cash back $1.50